Personal

Age

18

Height

6'0

Weight

190lbs

Eye Color

Blue

Hair Color

Brown

Occupation

SEED Student/Nerine's Bodyguard

Status

Alive

Attribute

Earth

Race

Half Human/Half Devil
A young and aloof
SeeD
warrior, for much of his life Squall was viewed by others as a cold and focused person. However, the events of prior to the story cause Squall to question the way he has chosen to live his life, and he matures into a heroic and caring swordsman. Squall's weapon, the
gunblade
, is one of the most difficult weapons to master. He is one of the few people to have mastered the use of the gunblade along with his partner, Seifer. He is also one of Nerine's bodyguards.
Original Appearance
Edit
Squall first appeared in the Square Enix game, Final Fantasy 8 as the main protaganist.
In Dissidia: Shuffle!
Edit
Squall was born a half breed; his father was a human, his mother a devil. He lost his mother to sickness at a young age and was mostly raised by his father. Losing his mother made him more reclusive and unwilling to get to know other people in the belief that he'll just get hurt again. When he began his training as a SeeD, he began to open up to his peers. He developed a friendly rivalry with Seifer Almasy, and even befriended Zell Dincht, much to his dismay.
When he was 12, he befriended Nerine, who later introduced him to Rinoa Heartily. He has a deep sense of loyalty to Nerine and thinks of her as a little sister figure; explaining why most of Nerine's suitors ended up seriously injured when they overstepped their bounds.
He has also been given a nick-name, which plays off his last name: Lion Heart, due to his lion like pride.
Fighting style
Edit
Squall uses a gunblade in combat. Utilizing quick, precise strikes and specialized ammunition.
His ultimate attack, Renzokuken: Lion Heart, is extremely devistating.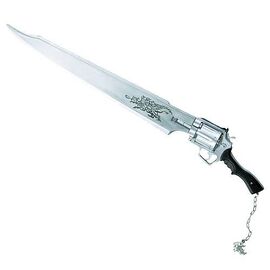 Squalls weapon, Revolver, is one of many different styles of gunblades. Gunblades are extremely difficult to master and are extremely reliable to people who can use them.